Is the 2022 Volkswagen Taos Right for You?
The Volkswagen Taos, a SUVW designed for a family that wants the functionality of an SUV with the style and comfort of luxury vehicles. It has plenty of space for both passengers and cargo and comes with all the latest features and amenities. If you're looking for a vehicle that can handle all of your needs, the Taos is definitely worth considering.
The Taos is a great choice for families who want the best of both worlds. It has all the space and functionality of an SUV, but with the style and comfort of a luxury car. The interior is spacious and comfortable, with plenty of room for both passengers and cargo. And the latest features and amenities are sure to please everyone in the family.
So if you're in the market for a new SUV, be sure to check out the Volkswagen Taos.
2022 Volkswagen Taos Overview
For people who want affordable crossovers and SUVs, there's the new 2022 Volkswagen Taos. The subcompact car, Taos is smaller than the Volkswagen Tiguan, but it has a roomier back seat and a lot of space for your things. It even won an Editors' Choice award for its practicality. It looks a lot like the Volkswagen Tiguan and the bigger Volkswagen Atlas, and is similar in size with the Mazda CX-30 and Chevrolet Trailblazer. With its new turbocharged 4-cylinder engine, the Taos can also be driven on all fours. A four-wheel drive layout is also available. The 2022 Taos is a good choice in a popular class when you add in its many available driver aids and desirable features.
What's New for the 2022 Volkswagen Taos?
The 2022 Taos is a brand new car in VW showrooms. Starting before it was officially shown off, we learned about its engine specs and size. We also learned about its attractive design and available features.
Under the VW Tiguan Is an All-new Subcompact SUV With Two Rows
VW is expanding its SUV collection with the all-new 2022 Volkswagen Taos, a new entry-level model that offers more flair, interior space, and driving satisfaction than many competitors. The Taos, which is smaller and cheaper than the Tiguan, is sized and priced to compete with the Honda HR-V and Mazda CX-30.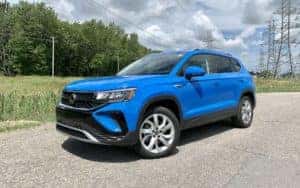 The Taos is awe-inspiring from the moment you enter. All Taos models include a digital instrument cluster that can be modified to display anything from the current song playing to turn- by-turn directions via the navigation system or via Apple CarPlay or Android Auto smartphone connection. Additionally, there are some attractive materials, spacious seating, and a surprising amount of cargo space for a small SUV.
Volkswagen has created an appealing SUV in the end. The Taos is comparable to the Tiguan in terms of sophistication and load space but comes at a lesser price.
2022 Volkswagen Taos – Features
Engine, Transmission, and Performance
The Taos is powered by Volkswagen's new 1.5-liter turbocharged engine. It generates 158 horsepower and 184 pound-feet of torque in its standard configuration. Front-wheel-drive variants are equipped with an eight-speed automatic transmission, while all-wheel-drive models are equipped with a seven-speed dual-clutch automatic transmission.
Additionally, the rear suspensions of the Taos are different between the front-drive and all-wheel- drive models, with the former employing a torsion-beam design and the latter employing a more advanced multilink design. The normal wheels are 17 inches in diameter, but larger wheels in the 18 and 19-inch sizes are also available.
When this car was tested, the low-speed push of the engine, the unobtrusive operation of the eight-speed automatic transmission, and the suspension's calm on even roads were all praised by the experts.
Fuel Economy and Real-World MPG
EPA mileage ratings for the front-drive Taos are 28 mpg in the city and 36 mpg on the highway, and all-wheel drive models are 25 mpg in the city and 32 mpg on the highway. On a highway fuel-economy route of 75 mph, experts tested a front-drive Taos and found it to be impressively fuel-efficient at 40 mpg.
Interior, Comfort, and Cargo
On the inside, the Taos is reminiscent of other Volkswagen models. Each dashboard features a completely digital gauge cluster and cloth-covered standard two-tone chairs. Leatherette and leather upholstery, on the other hand, are also available. Additionally, there is no scarcity of popular choices. Customizable ambient lighting, dual-zone climate control, an eight-way power driver's seat, heated and ventilated front seats, a heated steering wheel, and a panoramic sunroof are available in the Taos cabin. The Taos has 37.9 inches of rear seat legroom, just 0.8 inch less than the Tiguan's two rows. Additionally, the Taos offers a cargo area of 28 cubic feet behind the rear seatbacks and 66 cubic feet with them folded flat.
Infotainment and Connectivity
Each Taos comes equipped with a sleek infotainment system and a subscription-based Wi-Fi hotspot. A 6.5-inch touchscreen is included as standard, but an 8.0-inch touchscreen is available as an option. Additionally, the system is available with integrated navigation, an eight-speaker Beats Audio sound system, wireless smartphone charging, and SiriusXM satellite radio.
Safety and Driver-Assistance Features
Additionally, the smallest Volkswagen crossover is available with a variety of advanced driver assistance systems, including frontal collision warning and automated emergency braking. Visit the National Highway Traffic Safety Administration (NHTSA) and Insurance Institute for Highway Safety (IIHS) websites for additional information regarding Taos's crash-test results. Key road traffic safety measures include:
Blind Spot Monitoring and Rear Cross-traffic Alert
Lane-Departure Warning and Lane-keeping Assist
Adaptive Cruise Control
Warranty and Maintenance Coverage
In Volkswagen's case, the limited warranty is above average and the powertrain coverage is below average. However, it does offer complimentary scheduled maintenance, equal to that of Toyota.
A four-year limited warranty covers 80,000 kilometers.
A powertrain warranty covers 80,000 kilometers or four years.
There is a two year or 20,000 kilometer complimentary maintenance plan.
Quick Comparison – Pros and Cons
Pros
Sharp handling and smooth driving character
Easy access to the interior thanks to its comfortable design
Big cargo area for a little SUV
Impressive vehicle technology features
Cons
There can be a delay between downshifting and frustratingly slow transmission
Audible engine and road noise at highway speeds
Volkswagen Taos Models
Volkswagen sells the 2022 Taos in three trim levels: Trendline, Comfortline, and Highline. Each is powered by a 1.5- liter turbocharged four-cylinder engine (158 horsepower, 184 lb-ft of torque). The front-wheel- drive Taos is equipped with an eight-speed automatic transmission, while all-wheel drive vehicles like the Taos is equipped with a seven-speed dual-clutch automatic transmission and a more sophisticated rear suspension that should provide slightly improved handling composure in turns.
Volkswagen Taos Trendline
The Taos Trendline includes the following standard equipment:
17-inch alloy wheels
LED headlights
Roof rails
60/40-split folding back seat
Digital instrumentation display
6.5-inch touchscreen infotainment system
Apple CarPlay and Android Auto smartphone integration
Connected services including onboard Wi-Fi
Four-speaker stereo
Volkswagen Taos Comfortline
The following equipment is included with the Taos Comfortline:
 18-inch alloy wheels
Heated side mirrors and washer jet nozzles
Hands-free keyless entry
Remote start feature
Simulated leather seat trim with cloth inserts
Power-adjustable driver's seat
Heated front seats
8-inch touchscreen infotainment system
Wireless connectivity for Apple CarPlay and Android Auto
Satellite radio
Six-speaker stereo
Available wireless charging
Forward collision avoidance system
Active blind spot monitor with rear cross-traffic alert
Volkswagen Taos Highline
The Taos Highline includes all previous features as standard equipment, along with:
Black 18-inch alloy wheels
Illuminated grille bar
Adaptive headlights (swivel as you turn the steering wheel for better illumination in curves)
Automatic high-beam headlights
Rain-sensing windscreen wiper
Ambient interior lighting
Heated steering wheel
Dual-zone automatic climate control
Leather seats
Larger digital instrument display
Navigation system
Eight-speaker premium sound system
Rear parking sensors for park distance control
When you choose an all-wheel-drive Taos Highline, you also get:
19-inch alloy wheels
Ventilated front seats
Best Volkswagen Taos Model to Buy Based on Pricing
The mid-level Trendline model is most recommended by experts because it provides the best value. It comes standard with 18-inch wheels, heated front seats, remote start, blind spot monitoring, and wireless charging. For an additional price, you'll be able to add all-wheel drive. This is partly because it replaces the front-drive model's rear suspension with an independent one. We'd also opt for the Advanced Driver Assistance Systems Package that adsd a heated steering wheel, automatic high beams, adaptive cruise control, lane-keeping assist, and rain-sensor equipped windshield wipers.
FAQs About the 2022 Volkswagen Taos
Which Taos Is Recommended?
When it comes to selecting a Volkswagen Taos, the Comfortline trim level provides the optimal balance of standard and optional features. While it lacks some Highline  infotainment features, it does provide a comprehensive suite of driving assistance and collision avoidance systems. Additionally, a panoramic sunroof and black wheels are offered.
Where Does the Name Taos Come From?
"Taos" [tous/tas] is a rhyming word that rhymes with "house" [hous/has]. It takes its name from a small but desirable town in New Mexico recognized for its scenic natural beauty. Fun fact: John Muir also lived in Taos, New Mexico, where he penned "How to Keep Your Volkswagen Alive." When it was first published in 1969, the book sold millions and became a craze among VW owners for decades.
What Are the Measurements of the Taos and Where Does It Fit Into the Volkswagen SUV Lineup?
The Volkswagen Taos is the smallest SUVW to date, but "little" is a relative term in this case. Taos packs a lot of space and functionality into a small size. The Taos measures 4,466 mm overall and has a 2,690 mm wheelbase, whereas the Tiguan measures 4,701 mm overall and has a 2,790 mm wheelbase. Although the Taos is 236 mm (9.3″) shorter than the Tiguan and has a 100 mm shorter wheelbase, it offers exceptional space for passengers and cargo. The Tiguan's available third-row seats are a notable feature.
Is the VW Taos Bigger Than Tiguan?
No, the Volkswagen Taos is not bigger than the Tiguan. In fact, it is slightly smaller than the Tiguan. The Taos is designed for a family that wants the functionality of an SUV with the style and comfort of a luxury car. Despite its compact size, the Taos still has plenty of space for both passengers and cargo.
How Many Different Colors Are Available?
The Volkswagen Taos will be available in eight different colors: Pure Grey, Platinum Grey Metallic, Deep Black Pearl, Pure White, Pyrite Silver Metallic, Dusk Blue Metallic, Cornflower Blue, and Kings Red Metallic. No matter what color you choose, the Taos is sure to turn heads. With its sleek style and luxurious features, the Taos is perfect for any family looking for a car that can do it all.
Should You Get the 2022 Volkswagen Taos?
The Volkswagen Taos is a new SUV that is set to hit the market in 2022. If you're looking for a compact yet stylish and comfortable private transport vehicle that is perfect for a family, the Taos is definitely worth considering. It has plenty of space for passengers and cargo alike, and it comes with all the latest smart features that any compact SUV has. Plus, it's priced very competitively compared to other SUVs on the market. So if you're in the market for a new vehicle, be sure to check out the Volkswagen Taos. We offer various vehicles that suit your needs, whether you're looking for front-wheel-drive vehicles, rear-wheel-drive vehicles, a luxury car, off-roading vehicles, or a compact sport utility vehicle such as the Volkswagen Taos. We have the perfect car for you, check us out on Main Street in Vancouver and test drive the Volkswagen Taos today!